Attention A T users. To access the menus on this page please perform the following steps. 1. Please switch auto forms mode to off. 2. Hit enter to expand a main menu option (Health, Benefits, etc). 3. To enter and activate the submenu links, hit the down arrow. You will now be able to tab or arrow up or down through the submenu options to access/activate the submenu links.

National Center for Health Promotion and Disease Prevention
Healthy Living Messages
The burden of chronic disease in the United States is large and increasing. Nearly half of the U.S. total population (including children) has one or more chronic conditions and almost half those have more than one chronic condition. The top five major chronic diseases (cardiovascular, stroke, cancer, chronic obstructive pulmonary disease, and diabetes) alone account for 75 cents out of every dollar spent on health care and two out of three deaths. Many Veterans in our VHA primary care population have chronic conditions and many have multiple diagnoses. Of this population, 52% have hypertension, 36% have obesity, 24% have diabetes, and 18% have coronary heart disease. If overweight Veterans (as defined by a BMI range of 25-30) are included, the combined prevalence of overweight and obesity is 77% of the VHA primary care populationi. All of these chronic diseases are, at least in part, preventable. The World Health Organization estimates that at least 80% of all heart disease, stroke, and type 2 diabetes and more than 40% of cancers are preventable if people stop smoking, eat healthfully, and get into shape.
What's causing all these chronic conditions? There's good evidence to say that much of it is due to unhealthy behaviors. An analysis by the Centers for Disease Control and Prevention published in 2004 found that 18% of deaths in the U.S. were due to tobacco, 17% were due to poor diet and physical inactivity, 3% were due to alcohol consumption, and 10% were due to other preventable causes.ii In all, these behaviors contribute to 48% of all deaths. If people changed these unhealthy behaviors, some of these deaths could be postponed. How common are these health behaviors? The Figure below shows U.S. population data from the 2008 Behavioral Risk Factor Surveillance Systemiii and for the VA population, from various sources over different years.iv We don't have a good source of overall physical activity data for Veterans.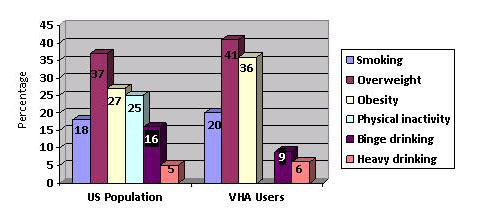 Figure. Prevalence of Selected Health Behaviors in the US Population and in VHA Users.
Can we in the healthcare system help our patients change risky behaviors? Are there behavioral interventions that work? The answers are yes, at least in part. Effective brief interventions for tobacco cessation and problem alcohol use are well known. While we have been successful with tobacco and alcohol interventions at the VA, we can help our patients achieve still greater success. Helping patients achieve weight loss and make dietary and physical activity improvements is difficult; patients may need more intense behavioral counseling. But these interventions are effective. Review of behavioral counseling interventions for healthy diet, physical activity, or a combined lifestyle approach for cardiovascular disease reduction in those adults without existing cardiovascular disease found that moderate- to high-intensity behavioral counseling interventions resulted in small but significant improvements in the amount of salt, fat, fruits/vegetables, and calories; minutes of physical activity per week, and physiologic measures of body mass index (BMI), blood pressure and cholesterol. Even small changes across a whole population often mean substantial changes for some in that population. Not everyone benefits but some benefit greatly. However, medical care by itself is not the whole answer to treating unhealthy behaviors; health care providers need to work hand-in-hand with community groups, worksites, schools, policy makers, and others to provide the support necessary for successful behavior change.
To encourage Veterans to choose healthy behaviors, the National Center for Health Promotion and Disease Prevention (NCP) selected and developed nine key evidence-based Health Living messages to serve as the foundation to its Preventive Care Program. These messages cover core prevention areas including nutrition, physical activity, weight management, smoking, alcohol use, stress management, clinical preventive services, safety, and health care communication. These topics were chosen because of their importance for reducing chronic disease morbidity and mortality and improving quality of life. The Healthy Living messages will communicate to Veterans a better way to live.
This year, NCP will be rolling out a national campaign for Veterans and staff featuring these Healthy Living messages. As described in the Summer and Fall 2010 issues of Health POWER!, NCP is developing pocket guides for staff and a "My Health Choices" goal-setting tool for patients based on these messages. The NCP websites (both internet and intranet) are being revised to prominently display the topics and supporting information for Veterans and staff.
Here are the Healthy Living messages and suggestions for discussing them with patients:
Be Involved in Your Health Care
You can help Veterans take an active role in their own health care. Suggest that Veterans plan ahead for visits by writing down questions and sharing their lists at the beginning of the visit. Encourage Veterans to provide accurate and complete information about their current health problems, concerns, past illnesses, and any hospitalizations. Also share information on current medications and over-the-counter herbals. Provide information to Veterans to assist them with making decisions about their health care. If you are a clinician, consider attending the TEACH for Success program in your facility, which offers evidenced-based communications strategies to improve partnering with patients.
Emphasize with Veterans that quitting smoking is the single most important thing they can do to improve their health and protect the health of their family members. Smoking harms nearly every organ of the body and is the single and largest cause of preventable illness and death in the United States. Brief counseling, referral to a smoking cessation clinic, and use of nicotine replacement and/or other smoking cessation medications are evidence-based ways to assist patients to quit. If the Veteran is not willing to quit, use motivational interviewing techniques to elicit and explore the patient's ideas, beliefs, and feelings about quitting (e.g., "How important do you think it is to quit smoking?"). Reinforce and support any 'change talk' that you hear (for example, "So, you know quitting would help your breathing, and it's great that you are going to quit at the start of the New Year"). Always leave the door open by letting the patient know that when they are ready to quit, VA is ready to help them.
Suggest patients eat a variety of foods including vegetables, fruits, and whole grains. Stress the importance of including fat-free or low-fat milk and dairy products and limiting total salt, fat, sugar, and alcohol. Refer them to the USDA My Pyramid food guide (www.MyPyramid.gov) to learn how to establish a balanced eating program. Suggest to Veterans they consume three cups per day of fat-free or low-fat milk or dairy products such as yogurt or cottage cheese. Carbohydrates can be fiber-rich vegetables, fruits, and whole grains. When selecting and preparing meat, poultry, fish, dry beans, and milk or milk products, choose lean (skinless), low-fat or fat-free varieties and don't add fat when cooking.
Encourage Veterans to avoid inactivity – some activity is better than none. Suggest they aim for at least 2½ hours of moderate-intensity aerobic activity each week. Every 10 minute session counts. They should do strengthening activities at least two days each week. Remind Veterans that less than half of U.S. adults get the amount of physical activity recommended in the 2008 Physical Activity Guidelines for Americans. Physical activity is safe for almost everyone, and the health benefits of physical activity far outweigh the risks. NCP is developing an optional clinical reminder/template to support discussions and goal-setting for physical activity and healthy eating.
Strive for a Healthy Weight 
When meeting with your patients, let them know that a healthy weight means balancing the number of calories they eat with the number of calories their body uses. By maintaining their weight, they are "in balance" and are eating close to the same number of calories that their bodies are using. For patients who are overweight or obese and want to lose weight, consider offering a referral to the MOVE! Weight Management Program.
There are many health risks associated with alcohol abuse. Binge drinking can lead to higher risk of health problems such as liver damage or injuries. There are a variety of means to help Veterans learn about alcohol dependence and effective treatments such as individual counseling, group treatments, medications to reduce craving or prevent relapse. Let the patient know the VA has resources that can help.
Get Recommended Screening Tests and Immunizations 
Provide screening for certain cancers, problem drinking/alcohol abuse, depression, high blood pressure, HIV, military sexual trauma, obesity, Post Traumatic Stress Disorder (PTSD), and tobacco use. Recommend Veterans receive a flu shot every year and other immunizations, as appropriate. Recommend to women that they update their immunizations before they become pregnant. For a list of specific recommendations for patients based on their age, gender, health status, and family history, refer to the following websites to see which preventive services are best for each Veteran: www.uspreventiveservicestaskforce.org and www.cdc.gov/vaccines/recs/schedules/adult-schedule.htm. The 2011 version of the Adult Immunization Schedule will be available in February. NCP is developing a website that will provide specific VA recommendations for clinical preventive services by patient age, gender, and smoking status.
Stress is a normal human experience, though too much stress over a long period of time can put Veterans' health at risk. However, we can help Veterans to develop skills and strategies to manage or reduce the physical and emotional effects of too much stress. Suggest stress management options such as physical activity, problem solving, relaxation training, expressing thoughts and feelings, time management, positive thinking or finding a pleasant activity, or referral to a facility stress management class or program. Some people who report being stressed may be experiencing more serious psychological or mental health conditions, including depression and PTSD. Follow facility protocols for screening for depression and/or PTSD or obtaining consultation from Primary Care-Mental Health Integration staff.
Although there are many topics that could be included under "Be Safe," the VHA Preventive Care Program has chosen the following three areas for prevention efforts: Sexually transmitted infections (STI), falls, and motor vehicle collisions. Let patients know the best way to fully protect themselves from STIs is to abstain from sex or to wait until the patient is in a relationship with only one person in which both have been tested for STIs. Persons at high risk for sexually transmitted infections should receive or be referred for intensive behavioral counseling. When talking about injuries, let older Veterans know that falls are the leading cause of injury deaths and about half of all falls happen at home. Also motor vehicle crashes are the leading cause of death among Veterans in the early years after returning from a deployment.
By talking with our patients about these key health topics and encouraging those who are motivated to take small steps toward healthier living, we can work with them to improve their health. It's a better way to live.
References:
i. Primary Care Almanac, VHA Support Service Center, 2010. Accessed 4/5/2010.
ii. Mokdad AH, Marks JS, Stroup DF, Gerberding JL. Actual causes of death in the United States, 2000. JAMA 2004;291(10):1238-45.
iii. Centers for Disease Control and Prevention. Surveillance for certain health behaviors among states and selected local areas — United States, 2008. MMWR 2010;59(No. SS10):1-222. Available at: http://www.cdc.gov/mmwr/pdf/ss/ss5910.pdf
iv. Smoking prevalence data in VHA 2008 Survey of Veteran Enrollees' Health and Reliance upon VA. Alcohol prevalence data from AUDIT-C items in SHEP FY04-07 from OQP (results shown are for men, women's results are lower).
Linda Kinsinger, MD, MPH
Chief Consultant for Preventive Medicine
Kathleen Pittman, RN, MPH
Program Manager, Prevention Practice
Jay Shiffler
Communications Specialist
return to top