Attention A T users. To access the menus on this page please perform the following steps. 1. Please switch auto forms mode to off. 2. Hit enter to expand a main menu option (Health, Benefits, etc). 3. To enter and activate the submenu links, hit the down arrow. You will now be able to tab or arrow up or down through the submenu options to access/activate the submenu links.

National Center for Health Promotion and Disease Prevention
Strive for a Healthy Weight
Strive for a healthy weight. If you need to lose weight, losing even a little will help. If you are of normal weight, maintain it. Staying in control of your weight helps you be healthy now and in the future.
What's Important to Know?
Maintaining a healthy weight means balancing the number of calories you eat with the calories your body uses or burns.
If you maintain your weight, you are "in balance." You are eating close to the same number of calories that your body is using. Your weight will remain stable.
If you are gaining weight, you are eating more calories than your body is using. These extra calories will be stored as fat, and you will gain weight.
If you are losing weight, you are eating fewer calories than you are using. Your body is using its fat storage cells for energy, so your weight is decreasing.
A simple way to know if you are at a healthy weight is to know your body mass index (BMI).
Being a healthy, normal weight is good for you and will help you prevent and control many diseases and conditions. Being overweight or obese increases your risk for diabetes, high blood pressure, cholesterol problems, heart disease, gallbladder disease, female health disorders, arthritis, some types of cancer, and sleep apnea.
Eat wisely and choose a variety of low-calorie, high-nutrition foods and beverages in the basic food groups. Select foods that limit your intake of fats, cholesterol, added sugars, salt, and alcohol.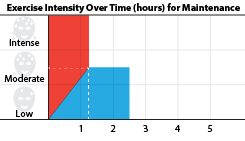 Be as physically active as possible. To maintain a healthy weight, adults should do at least 2½ hours (150 minutes) a week of moderate-intensity or 1¼ hours a week (75 minutes) of vigorous intensity aerobic physical activity or an equivalent combination of both. You'll see a difference in your weight and your health.
Lifestyle changes that include healthy eating, regular physical activity, and maintaining a healthy weight are the keys to good health. If you need to lose weight, losing even a little will help.
If you need to lose weight, losing as little as 5-10% of your current body weight can lower your risks for many diseases.
If you are a Veteran, enter the MOVE!

®

Program. If you are not a Veteran, enter a commercial weight management program of your choice.
Eat and drink fewer calories, increase physical activity, and combine the two for the best results.
Set a daily calorie goal based on your current weight.
Use a food (and drink) diary or an online tool to track your daily calories.
Increase physical activity to 5 hours (300 minutes) a week of moderate-intensite aerobic physical activity, or 2½ hours (150 minutes) a week of vigorous-intensity physical activity, or an equivalent combination of both. Any physical activity carried out for over 10 minutes counts.
Notice and celebrate the difference in your weight and improved health.
A reasonable and safe weight loss is 1-2 lbs per week. It might take 6 months to reach your ultimate goal, but making gradual lifestyle changes can help you maintain a healthier weight for life.
If you are normal weight, congratulations! To maintain your weight, engage in regular physical activity, eat wisely, and weigh yourself daily.
If you have questions or interest in making a healthy living change, please see your primary care team at the VA facility in which you receive health care.
Want to Know More?
Definitions
Body Mass Index (BMI)

BMI is a screening test for the identification of overweight/obesity. BMI estimates total body fat based on height and weight.
The formula for the calculation is:
Formula: weight (kg) / [height (m)]2
Calculation: [weight (kg) / height (cm) / height (cm)] x 10,000

Normal Weight

A normal weight is a BMI between 18.5 and 24.9. BMI may overestimate body fat in athletes and others who have a muscular build and underestimate body fat in older persons and others who have lost muscle mass.

Moderate-intensity

A level of activity that causes some increases in heart rate, breathing, and perspiration. Examples include brisk walking, cycling on level terrain, dancing, house/yard work, or golfing while walking the course and carrying clubs. When doing moderate-intensity exercise, one should be able to hold a conversation but not be able to sing.

Vigorous-intensity

A level of activity that results in a substantial cardiorespiratory challenge (e.g., hard breathing, rapid heart rate, significant perspiration). Examples include running, continuously swimming laps, and racquet sports. At this level of exercise, it is difficult to have a conversation. Note that any level of activity may be considered "hard" or "very hard" by some sedentary or deconditioned individuals. Intensity is relative and should be judged by the participant.

Waist Circumference Measurement

Waist circumference measurement can assess abdominal fat and provide an independent prediction of risk over and above that given by BMI alone. Risk increases with a waist measurement greater than 35 inches for women or greater than 40 inches for men.

Calorie reduction formula to lose weight

For a weight loss of 1-2 lbs per week, daily intake (food and beverages) should be reduced by 500 to 1,000 calories.
Resources
return to top